Discover easy ways to make money,
how to create your own home-based business,
multi level marketing tactics,
and much more...
When you subscribe to my Free Newsletter, I'll also give you free access to 17 Serious Software Programs.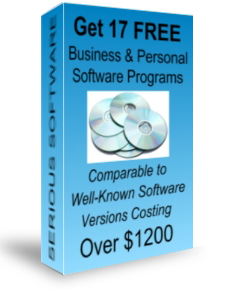 This is Serious Software that's totally FREE. These FREE software programs are 100% Legal and Fully Functional…doing virtually anything the expensive commercial software programs will do. You'll be overwhelmed with how good
this software really is…I promise.
Enter Your Name and
Primary Email Address
in the Form above to start receiving "Doyle's Letter".
I have the important solutions for you in my Catalog of Successful Action Plans, and Business Systems.
This Catalog took over 20 years to create...and perfect it. You will be completely overwhelmed. I promise. I have conquered this mail order/internet/network marketing approach like no one else. Please take your time and go through EVERYTHING carefully. You'll be glad you did.
Click on All of the Buttons Below to Learn More About My Successful Action Plans, Solutions and Business Systems.